Tablet Compression Tooling
We offer Quality tooling at the Best prices! 
We have the expertise and facilities to meet the demand of the tableting industry for standard and customized tooling for a range of tabletting applications. Our commitment towards developing ground-breaking solutions in areas such as metallurgy, punch coating, productivity boosting and Quality Assurance measures has been successfully adopted by customers worldwide. We manufacture tablet tooling for all tablet presses including Fette Compacting, Bosch, GEA, IMA, Korsch, Sejong, Cadmach, Karnavati and more.
The categories we make tooling for is undefined but here are a few commonly made tooling types we offer:
TSM STANDARD TOOLING - B, BB and D
EURO STANDARD TOOLING - B, BB and D
FETTE TOOLING including SEGMENT DIES
KILIAN TOOLING
JAPANESE STANDARD TOOLING
BOLUS TYPE TOOLS
MULTI TIP TYPE TOOLING CUP TYPE
MICRO TIP TYPE TOOL
3D TIP TYPE TOOLS
Tool Steel
Strength, resistance to wear/corrosion/distortion and warping during heat treatment are the tooling's most important metallurgical properties. These properties are the condition under which we manufacture. We are experts in the steels used to manufacture tablet press tooling and offer a variety of steel types to meet any of your tooling specifications: We offer 01 Steel, S7 Steel, D3 Steel, D2 Steel, A2 Steel, S1 Steel, 408 Steel, 440C Steel, SP10 Steel, K340 Steel, M340 Steel, and N690 Steel.
Tool Coating
Based on the nature of the product (abrasive, corrosive, sticky etc.), we can recommend a variety of tool coating solutions. As a default coating on all tooling, we provide HCP - a type of CVD coating which is highly reflective and resistant to Corrosion & Wear and has less Coefficient to friction resulting in smoother Compression & Ejection of Tablet. Other coatings include ENI, HCP+, TIN, CRN, CRN+, CRX, CRX+, SPN, SPN+, MLY, DLC, ZLD, RCOAT, ELDO and CX1.
Ask about our World Renowned Tool Combos
PRECI TOOL – THE WORLDS MOST ACCURATE TABLETING TOOL
NURO TOOL – THE TOUGH TOOL
PRIMO TOOL – THE PRIME TOOL
STAR TOOL – THE TABLETING STAR
EXPRESS TOOL – TOOLING THAT DELIVER SMILE
DURO TOOL – THE LONG LIFE TOOL
ULTRA TOOL – THE ULTRA SMOOTH TOOL
ECO TOOL – THE POCKET FRIENDLY TOOL
UNIVERSAL TOOL – THE GLOBAL TOOL
SIP TOOL – THE PRO TOOL
Additional Images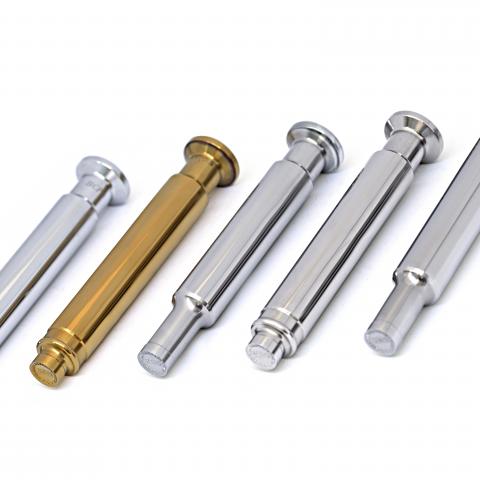 Request further information